Most Common Medical Coding Errors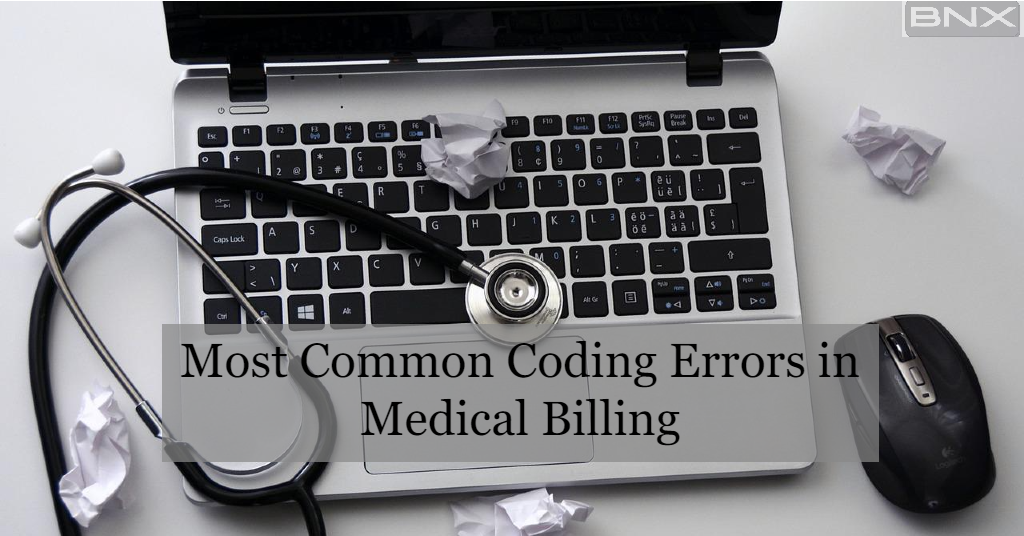 Medical coding errors are alarmingly common – and your practice could pay the price!
According to Healthcare Innovation, four in five U.S. medical bills contain at least minor mistakes — costing the nation $68 billion annually in unnecessary healthcare spending by doctors and patients alike.
Given the complex medical coding ecosystem, mistakes are only natural. There are some common coding errors that can cost your practice millions of dollars of lost revenue. Besides, coding errors may lead to claim denials, fraud, and even fines.
Small errors in coding can cause devastating damage, beyond that which results in poor patient care and jeopardized reimbursements. Knowing the pitfalls is the first step to avoid such errors.
Selecting the Wrong Procedure Code
There are thousands of CPT codes and these are updated annually. Thus, it is common to select an incorrect procedure code. The culprit is usually an outdated cheat sheet, incomplete or inaccurate code descriptions on encounter forms. Failure to read the editorial comments at the start of the section in the CPT book is yet another common coding error. Submitting a claim with the wrong diagnosis or procedure code can cause a claim to be denied, since it may not match authorization.
Inaccurately Reporting Appropriate Modifiers
Not appending modifiers or appending inappropriate modifiers is very common. Incorrect use of modifiers, whether due to misunderstanding, incorrect information, or a desire to get a claim paid could cause a lot of confusion. Since modifiers directly determine how much you get paid, inappropriate use of modifiers can badly affect reimbursement.
Upcoding
Upcoding is fraudulently misrepresenting a procedure code to reflect a diagnosis or treatment that is more severe, thereby receiving a higher reimbursement. It is usually done to inflate a patient's diagnosis to one that represents a more serious procedure. For example, an emergency facility that charges "facility fees," in addition to medication and service expenses, could be intentionally misusing billing codes.
Undercoding
Undercoding occurs when a patient is billed for less treatment than they received. This is typically practiced to avoid audits or to minimize denied claims. By undercoding, you are losing revenue. To avoid it, your coding team must stay updated with the annual coding changes.
Unbundling Codes
Unbundling involves billing different components of a procedure separately when a single code could have been used. This can significantly inflate costs so that the provider receives a higher payout for a procedure. Unbundling refers to using multiple CPT codes for different parts of the procedure, either due to misunderstanding or in an attempt to increase the payment.
Overusing Modifier 22
Modifier 22 (unusual procedural services) indicates increased complexity of surgical procedures that are substantially greater than what is typical and expected. Inappropriately using modifier 22, overusing it, or even using it without clear, detailed support documentation can jeopardize payment or lead to claim denials.
Failing to Link ICD-10 Diagnosis Codes
It is essential that diagnosis codes properly match procedure codes. The purpose of linking diagnosis codes with procedure codes is to prove medical necessity. Failure to link codes fails to demonstrate medical necessity, and therefore prevents your claim from being paid.
Failing to Check NCCI Edits
It is necessary to consult NCCI edits when reporting multiple codes. An NCCI edit indicates that a code is denied. The NCCI was developed to ensure that the correct coding methods were followed and to avoid incorrect payments for Medicare Part B claims. It analyzes every pair of codes billed by the same provider on the same service date for the same patient to see if an edit exists.
Providing Sloppy Documentation with Unlisted Codes
Not including proper comprehensive documentation can more often lead to denied claims. It is important that unlisted codes be sufficiently documented. Sloppy documentation, missing details, or even illegible handwriting can make it hard to assign codes and bill for a patient's healthcare.
All-In-One Solution for Your Medical Billing Needs
By outsourcing medical billing services, you get more than just DME billing expertise—you get a team of specialists with rich medical billing experience who can minimize billing errors. Additionally, their experienced team collaborates with you to develop a solution that optimizes your revenue cycle management and eliminates coding errors.